Sex Toys For Couples
If you find your sex life becoming dull or are tired of your current sexual routines, you and your partner might consider ways to enhance your current situation. Trying role-play games before intercourse, watching action movies, or using aids such as Sex Toys For Couples to spice up your sexual enjoyment can be effective ways to bring excitement back into the bedroom. Using Sex Toys is one of the simplest and most convenient ways to strengthen intimacy between couples.
Sex Toys cater to the needs of both individuals and couples, offering a wide range of options to satisfy various desires. If you're considering trying Sex Toys for the first time, it's important to have mutual consent and respect between partners. Every individual and couple is unique, and the decision to use sexual toys should be based on personal comfort and preferences. Whether it's to enhance the sexual experience, improve the relationship, or satisfy curiosity, Sex Toys can be a valuable resource to help people explore and enjoy their sexuality.
Benefits of Using Sex Toys for Couples
Over time, sexual routines can become monotonous. Sex Toys can bring novelty, spark interest, and introduce new pleasures and satisfaction for couples. They can be a solution for couples experiencing mismatched libido or premature ejaculation, providing additional stimulation to improve the sexual experience. Additionally, there are the following benefits:
Enhanced Sexual Experience: Sex Toys can provide extra stimulation and fun, enhancing the overall sexual experience. Whether used for self-exploration or shared with a partner, Sex Toys can guide you to explore new sensations and orgasmic pathways.
Deepened Intimacy: Exploring the use of Sex Toys together can deepen the intimacy between partners. Sharing this intimate experience can strengthen the emotional bond and connection.
Enhanced Communication: Opting to use Sex Toys requires open communication and mutual agreement between partners. This communication can strengthen the emotional connection and help both parties better understand each other's preferences and desires.
Exploration and Discovery: Individuals can engage in self-exploration through Sex Toys, gaining a better understanding of their bodies and sexual preferences. This can boost self-esteem and confidence, contributing to emotional well-being.
Stress Relief: Sex can serve as a way to relieve stress and release tension. The use of Sex Toys can help individuals relax both mentally and physically, promoting overall emotional health.
Fun and Humor: Incorporating Sex Toys can introduce light-hearted and humorous moments, increasing interaction and enjoyment between couples.
Which Sex Toys are suitable for couples
As the demand for Sex Toys continues to grow, a variety of options are available to cater to different preferences and needs. Sex Toys come in various designs and functions to provide a personalized experience. Common types include Vibrators, Magic Wands, Dildos, Lingerie, Couples Kits, Anal Toys, Delay Sprays/Gels, Oral Sex Simulators, BDSM Equipment, and More.
When choosing Sex Toys, it's essential to consider not only the brand and material but also personal interests, comfort, and health. For couples, the choice of Sex Toys should be based on mutual tolerance and preferences. Here are a few recommended Sex Toys for couples from Magic Motion:
Vibrators: Vibrators are a classic choice among Sex Toys, suitable for both females and males. They can be used for external stimulation, such as clitoral or testicular stimulation, as well as internal stimulation, like vaginal or anal play. With various shapes and vibration modes, Vibrators offer diverse sensations for those looking to explore different feelings.
Cockring: Cockrings are suitable for both females and males. They can be used for self-exploration, erotic experiences, and shared use with a partner. Different sizes and materials of strokers can meet different needs, from gentle stimulation to more intense vibrations. Magic Motion presents the Magic Dante II, a Smart Wearable Cockring crafted from soft and flexible silicone material. It offers 10 manual vibration modes, ensuring endless pleasure. Easily controlled through a free app, it provides long-lasting erections.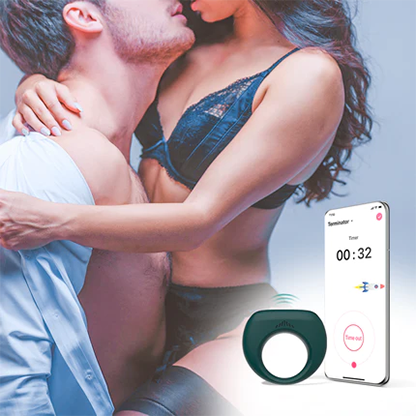 Delay Sprays/Gels: These products cater to males and help prolong sexual activity, addressing premature ejaculation. They offer an extended sexual experience, contributing to increased enjoyment.
Magic Wands: Magic Wands are primarily used for external full-body massages, as well as sexual stimulation. They can induce orgasms in females and provide additional stimulation for males. The large size and powerful vibrations of Magic Wands can lead to intense pleasure. The Magic Zenith is a Water-Proof Cordless Smart Wand, controlled intuitively through a unique handle and capable of synchronizing with videos.
Lingerie: Lingerie adds visual excitement to lovemaking, making it suitable for enhancing arousal and increasing intimacy between couples. Different materials and styles of lingerie cater to various preferences.
Anal Toys: Anal Toys are designed for individuals who enjoy anal stimulation, suitable for both males and females. Anal beads, butt plugs, and other products can provide unique sensations, aiding in the exploration of new feelings.
Magic Motion also offers popular products like the Magic Flamingo, Xone, and other smart Sex Toys. Whatever Sex Toy you choose, decisions should be based on personal preferences and desires. Rest assured that Magic Motion upholds the highest standards, ensuring that all adult products are of exceptional quality and designed with safety in mind. To ensure both pleasure and well-being, kindly adhere to the recommended cleaning and maintenance guidelines when using these products.